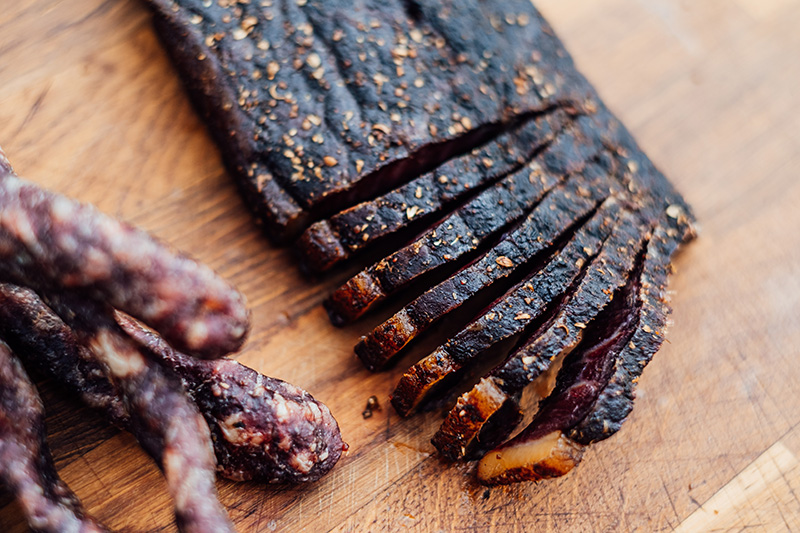 How is Biltong Made?
Biltong is made through a process known as curing. The process of curing meat has been around for many thousands of years and employs techniques such as smoking, salting and drying. The process of curing meat helps to vastly extend a products shelf life. Biltong uses a specific combination of salt, vinegar, heat and controlled humidity to remove the moisture from within the meat. Other cured meats, such as Beef Jerky, utilize smoke to cure the meat. There are four main steps involved in the production of Biltong. These are explored below.
Step 1: Cutting
The first step in making Biltong is the cutting process. Here at the Sussex Biltong Company, we use Silverside beef to make our Biltong. We use silverside because of the excellent fat to meat ratio, which helps lock in the flavour of the spices and produces the least chewy texture. The meat is cut into steaks about an inch thick and 10-20 inches long. As the Biltong dries this will shrink to about half its original size.
Step 2: Spicing
The next step in the production of our Biltong is the spicing process. At the Sussex Biltong Company, we have a wide selection of Biltong flavours, however; we use the same secret spice mix as the base for all of our Biltong. Some of the main ingredients in this mix include salt, pepper, garlic, coriander and vinegar. These ingredients, together with the drying process, help to cure the meat and give the Biltong its unique flavour.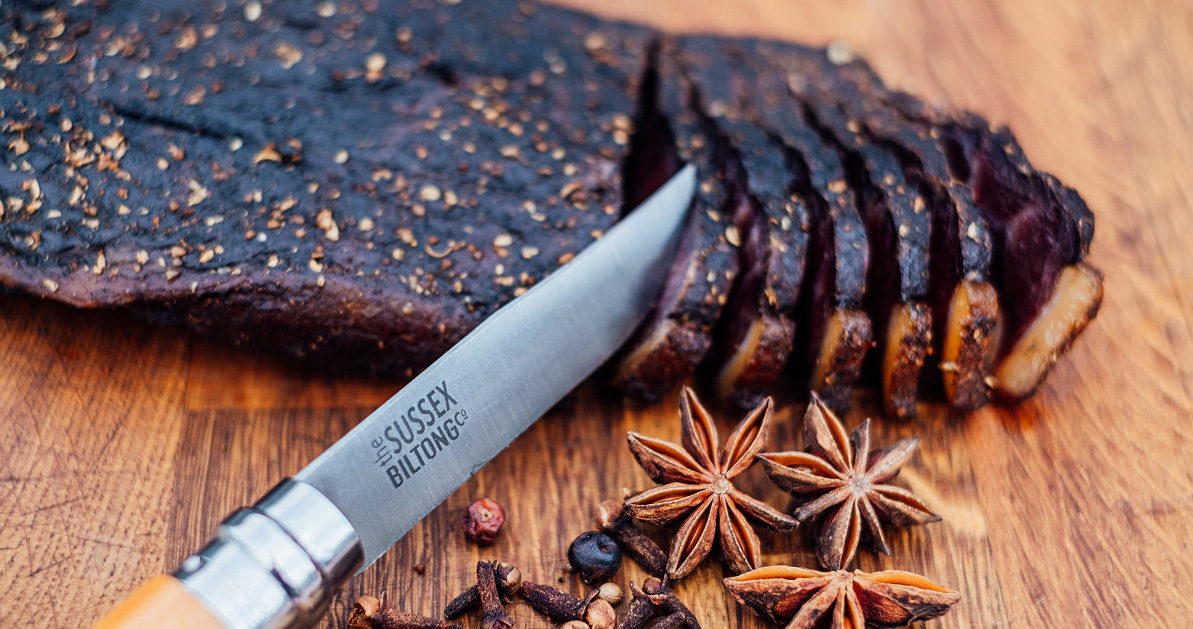 Step 3: Drying
After the Biltong has been spiced, it is ready to be dried. We have a specialised, state of the art drying room built into our Sussex Biltong factory, where all of our meat is hung. This drying room regulates the temperature and humidity of the space, using industrial fans and dehumidifiers, ensuring that the perfect conditions are maintained so that the curing process can take place. The drying process takes on average about 5-7 days.
Order Now and Try Our Carefully Crafted Biltong Recipie
Step 4: Eating
Our Biltong is only cut, ready to eat, after it has been through the drying process, and as close to consumption as possible. This helps to ensure that our Biltong maintains its tenderness before being enjoyed. You can personally watch your Biltong be cut in front of you at one of our shops either in Haywards Heath, East Grinstead or in Brighton, or alternatively order your own through our website. We deliver both pre-cut and whole stick Biltong, whihch you can cut yourself at home.