Whether you're a South African local or simply visiting, chances are you've heard of Mrs Ball's chutney. This delicious condiment has been around for over a century and is still as popular today as it was when it was first introduced. So, what is the story behind this beloved South African favorite? Let's take a look at the history of Mrs Ball's chutney and why it continues to be enjoyed by so many.
History Of Mrs Ball's
Mrs. Ball's Chutney is an iconic, long-standing, family favourite for many South African households. The chutney has an integral link to the cooking culture within South Africa and has even made a name for itself beyond South Africa's borders.
Mrs. H.S. Ball's Chutney, has been developed with the Ball family crest and its signature octagonal jar, with which today's chutney lovers are so familiar. The condiment has maintained its generations-old secret recipie, which has been passed down through the family since it's creation in the early 1900's. The creator of the now famous chutney, Amelia Ball, sold the condiment at church bazaars and soon noticed the growing popularity for her product. The business continued to expand until it eventually became a national brand in South Africa. Thus, Mrs Ball's Chutney was born!
Why not try it for youself?
Mrs Balls Chutney is one of the most iconic brands in South Africa. This spicy, fruity, sweet and tangy chutney is made from dried fruit and onion, with a wide variety of unique and wonderful flavours. Head to our online store to try if for yourself.
Rumours Vs. Reality

There is a well known rumour that the recipie for Mrs Ball's Chutney was nearly lost at sea. As the story goes, in 1852, the SS Quanza, which was sailing from Canada to Australia, capsized off the coast of East London, South Africa. A blueprint for what would eventually become the classic Mrs. Balls Chutney was safeguarded by Captain Adkins and his wife. In 1865, they passed the blueprint onto their daughter, Amelia, who went on to develop the world famous chutney.
While an interseting story, it is a little far from the truth. In reality, the shipwreck of the SS Quanza was bought by Henry James Adkins, an East London trader for recycling. He married Elizabeth Sarah Spalding in 1852. The couple then relocated to Fort Jackson, which is where Sarah Adkin first introduced her chutney to the world. Her product quickly gained popularity among the local residents, but she lacked the ability to market her delicious condiment. Her daughter, Amelia, stepped in and expanded the brand.
Amelia Adkins later married Herbert Ball and both moved to Johannesburg, bringing the product and recipie with them. This is where Amelia began selling the product under the well known name Mrs Ball's Chutney.
Popularity Today
Today, Mrs Ball's Chutney is still one of the most popular condiments in South Africa and is often served alongside traditional dishes such as bobotie (a spiced mince dish), braai (barbecued meat), boerewors (spicy sausage) and more. It has also become popular abroad with many international stores now stocking the product. What makes this particular chutney so special? Most people agree that it's the unique blend of spices which gives it its distinctive flavor—a secret recipe that has been passed down through generations of the same family.
Recipies
Mrs. Ball's Chuntey has a multitude of uses. Their vast selection of flavours allows for a huge selection of pairings and flavour combinations. The chutney is an amazing addition to any cheese board. The sweetness of the origingal flavour chutney pairs perfectly with the sharp, earthy tones of a mature cheddar or soft brie.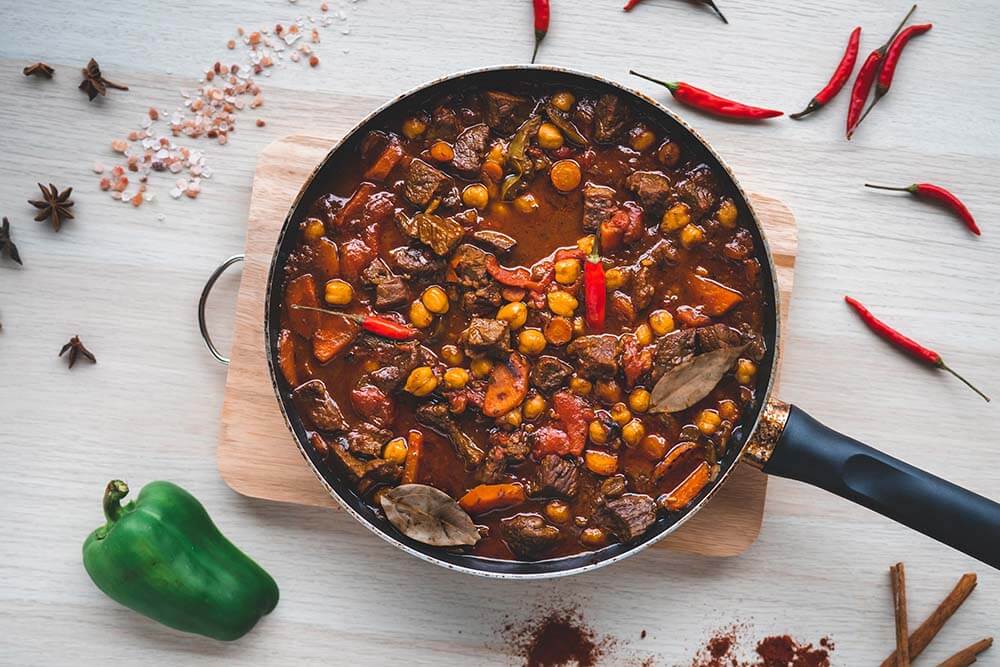 Chilli Con Carne
Why not use the spicy varieties in a delicious chilli con carne? Below is an amazing recipie taken from the Mrs. Ball's website.
Ingredients
3 Tbs vegetable oil
1 large onion, chopped
500g minced beef
290ml beef stock
2 garlic cloves
2 Tbs Mrs Ball's Jalapeño Chutney
½ tsp ground cumin
1 tsp dried oregano
2 x 400g canned tomatoes
225g red kidney beans, cooked
1 tsp salt
1 pinch freshly ground black pepper
1 tsp castor sugar
Preparation
1. In a small saucepan, heat half the oil. Sauté the onions for about 20 minutes or so until soft.
2. In a frying pan, heat the rest of the oil and cook the beef until browned.
3. Add onions to the pan and cook until browned. Throw in the garlic and then stir for a minute or two.
4. In a small bowl, mix some oregano and spices. Add to the pan and stir for another minute.
5. In a big pot, combine the meat, onions, stock, and tomatoes.
6. Add the kideny beans along with the pepper, salt and sugar and leave to simmer for 1 hour. Continue to stir occassionally until the meat is tender.
7. Add your Mrs. Balls Jalapeño Flavour Chutney about 50 minutes in.
8. Serve with boiled rice. For some extra flavour add another spoon of Mrs. Ball's Chutney to the top.
South African Style Chicken
Why not try this South African style chicken recipie by FinGlobal? A delicious and easy to prepare recipie that incorperates the unique flavour of Mrs. Ball's.
Ingredients
1 small/medium onion chopped finely
1 garlic clove, grated
1 red chilli (remove seeds and chop finely)
6 tablespoons of Mrs Ball's Chutney
1 tablespoon of Worcestershire Sauce
6 tablespoons of mayonnaise
8 chicken thighs (with skin and bone)
1 tablespoon of olive oil
Cooked rice of your choice for serving
Green side salad for serving
Preperation
1. Turn on the oven to 180°C and leave to preheat.
2. Heat the oil in a frying pan. Set the temperature to a medium heat.
3. Add the oniion and fry for a few minutes or until it starts to turn semi-transparent.
4. Throw in the chilli and garlic, lower the heat and fry for another minute.
5. Combine the Mrs. Ball's Original Flavour Chutney, mayonnasie and Worcester sauce in a bowl.
6. Pat some salt into the chicken thighs.
7. Line a baking tray with foil and place on the seasoned chicken. Spoon on the chutney mixture.
8. Roast for 40-45 minutes.
9. Serve with boiled rice and enjoy!
Conclusion
Mrs Ball's Chutney has been delighting palates for over 120 years now, making it one of South Africa's oldest brands! With its perfect balance of sweet and savoury flavours, there is no doubt why this condiment continues to be enjoyed by so many people around the world today. If you haven't tried Mrs Ball's Chutney yet then make sure you give it a go next time you find yourself near some traditional South African food! You won't regret it!
Why not try it for youself?
Mrs Balls Chutney is one of the most iconic brands in South Africa. This spicy, fruity, sweet and tangy chutney is made from dried fruit and onion, with a wide variety of unique and wonderful flavours. Head to our online store to try if for yourself.